<![if !vml]>

<![endif]>

Welcome to the home of Vintage Motorcycles. Spanish two-strokes are the primary favorite here. This site is a way for me to share my love for those great motorcycles of the past. Enjoy the sights (loads of pictures) and the memories.

For those of you who love those wonderful Spanish two-strokes may I recommend the Spanish Motorcycle Owners Group (SMOG). You will receive a newsletter that is published bi-monthly featuring reports on SMOG Events, pictures, classified ads, feature articles about the men who designed and built the machines and more. Dues are $20 (USA), $25 for all other countries annually. Join today by sending your money to;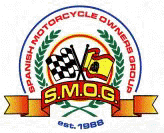 Spanish Motorcycle Owners Group
P.O. Box 297
Cropseyville, New York 12052 Fax: 518-279-4297

My other pages ----------------------------
Picture pages 1 & 2 Items 4 Sale
Trials Page

Links to other places
Speed & Sport - Vintage bike parts & Restorations
OSSA Planet - OSSA Parts and repairs
Hogan's - OSSA & Bultaco Parts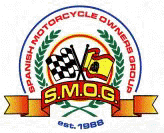 This website is the property of the "OSSAMAN". Some pictures found here may have been borrowed with no harm intended to the original photographer.