Mike's Vintage Motorcycle Pages
Projects

These are some pictures of a few of the motorcycles that I have rebuilt over the years.
This is a 72 Bultaco Alpina 250 that I redid. I painted the frame white and also painted white where the silver stripe on the tank was. I added Acerbis plastic fenders and the headlight/number plate combo. I also used Progressive shocks and Honda fork seals. This bike was alot of fun.

This the '74 OSSA 250 Phantom that I built in '94. This bike was beautiful. The frame was powder coated. All the alloy was polished to a mirror finish. The beautiful nickel plated pipe was purchased thru Keith Lynas (it was the finishing touch that set off the whole bike).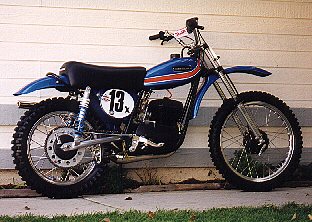 I used Works Performance shocks. The motor was built by Bill West at Vintage Iron. One nice touch was the use of Light Weight Products washers, these have lightning holes drilled in them. The bike ended up being used as a show bike because it was just too nice to mess up. It took a 1st place in class at a local vintage motorcycle show.
Technical note; On every Phantom based model that I have worked on the item that is always neglected seems to be the wheel bearings. So beware when buying an OSSA from anyone. Wheel bearings that don't turn properly can over heat and weld themselves to the axle. Besides that, bad wheel bearings suck horsepower.
Footpegs; You can use aftermarket footpegs for a Suzuki DR350. A little bit of grinding on the frame side of the pegs to allow them to fold down flat is all that is required. Then you will have a larger platform to put your feet on. They are stronger too!

Links to my other pages
If you have any questions or comments please e-mail me at; ossaman@pacbell.net